LIMESTONE TILES AT STONE DESIGN

Stone Design showcases one of the largest collections of Limestone Tiles in Sydney. At Stone Design we understand the significance of beauty in our surroundings and especially when it comes to our homes. Limestone is one of the most sought-after flooring options across the globe and at Stone Design we bring you the best selection of quality limestone tiles in Sydney.
What is Limestone?
Limestone Tiles are are a smart, practical and low maintenance solution for many purposes.
The longevity and durability of Limestone is evident in some of the most iconic buildings such as The Pentagon and Empire State Building. Limestone Tiles are durable and with proper maintenance will remain in great condition for decades to come. Limestone Tiles can be used for many purposes in homes, workplaces and public spaces. Limestone is available in various finishes and can be used on floors, walls, staircases, verandahs, pool surrounds, terraces, and other outdoor areas.
Stone Design provides hundreds of Limestone tiles in a range of colours, patterns, shades, and shapes and a range of finishes to suit any interior or exterior application.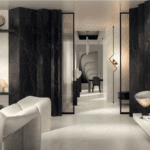 How Limestone can Transform Your Home?
Limestone Tiles have the potential to transform any given space into an attractive timeless and functional space. Limestone tiles are now the leading choice of tiles for indoor and outdoor applications in residential and commercial property. Limestone tiles are elegant, sophisticated and natural products, which create warm and welcoming spaces. With the elements of limestone, you can add a touch of luxury to a space that will remain timeless.
People dream of an attractive and functional space which transcends a house and becomes a home, where there is no need to think twice when inviting family and friends.The team at Stone Design will assist you throughout the process of making a fine selection, and help you transform your ideas into reality, when renovating or building.
Projects

SLATE VENEER
NEW Cladstone have developed a very thin, flexible & eco-friendly Slate Veneer.
STORE FIT-OUT
The illusion of depth and mass. Real flexible sandstone thats only 3mm thick.
KILLARA PROJECT
Cladstone Sandstone veneer delivers half the time, half the cost & three times the value.
STORE FIT-OUT
The illusion of depth and mass. Real flexible sandstone thats only 3mm thick.